*I am posting Samantha's entire birthday celebrations in one post, so here is your warning this post will be LONG and contain lots of pictures.*
S
amantha's birthday was on a Sunday
but the party started on Thursday when we brought cupcakes to school for her class.
We took the cupcakes on Thursday because on Friday she got to skip school and go
skiing with Rob
.
Friday night Rob and I took Samantha on a birthday date, she got to choose where we went to dinner and decided on Buffalo Wild Wings (I have trained my kids well). It was crazy busy and we spent more time waiting to be seated then we did eating, but the food was good (even better than it was a few weeks ago).
We also tried to take her shopping for a birthday outfit but by the time we were done eating everything was closed.
Samantha shares her birthday with Grandma Morris so she came up to spend the weekend with us. We spent Saturday shopping and then heading to the park for
Samantha's birthday shoot
.
Katie's family also came down early and Samantha was able to have Leka sleep over.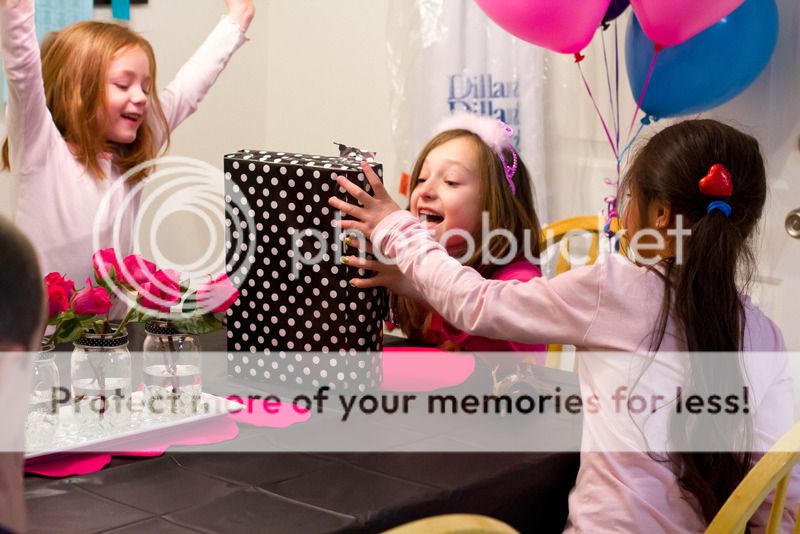 Sunday we woke up super early, the joys of 9am church, Hannah has been trying to be patient but couldn't wait any longer for Samantha to open her gift. We let Samantha open it in the morning hoping it would hold her over until she could open the rest in the afternoon.
I love that Hannah was just as excited as Samantha every time she opened another present, she was also really excited that Samantha loved the Operetta Monster high doll she picked out.
Samantha chose Cookie Crisp for her birthday breakfast cereal (an idea I stole from my cousin Hannah).
I had to throw in this one, Hannah was so tired from all our partying she fell asleep on Grandma's lap during Sacrament meeting.
Every six years Samantha shares her birthday with the Super Bowl so we combined the 2 parties. We were not planning on eating until right before the game started at 3 o'clock so we decided to let her open her presents early. Hunter got her the 2nd Monster High book (my little reader is starting to come back) and Rob and I bought her the Monster High Cupid doll. The Bartlett's sent her a Laguna doll, Grandma and Grandpa Morris got her a Neffera doll, the Tautua's gave her a cute purse and earrings, and the 'Aho's gave her a Toralli doll. She now has more Monster High dolls than anyone she knows (except for the girl on the internet who supposedly has them all).
Grandma & Grandpa Davidson's gift arrived on Monday, because the mail man was dumb, but she was excited her birthday lasted one more day and she loved the Monster High puzzle and the awesome art supplies.
Thank you everyone for the great gifts!!
She was busy admiring each of her dolls when Rob wheeled out one more surprise, a new bigger bike. She immediately took it out for a spin and I was grateful for nice weather, winter birthday's can be hard when you are given summer toys.
At 3 o'clock we busted out our feast: Chicken wings, meatballs, shrimp, cheese fondue, vegetables, 7 layer dip, chips and Salsa. There was so much food and it was SO GOOD!!
During half time we dished up cake, Samantha wanted a snickers ice cream cake and we bought Grandma her very own Chocolate cake.
Samantha dug in for her first bite, seriously this is one of our favorite traditions, so funny!!
We even made Grandma take a big bite of cake, because it is tradition!!
Samantha loved her birthday and I am still in denial I have a 9 year old, but we sure do love this girl!!
But wait, you all thought I was finally done, nope there is still more.
We couldn't let Samantha's birthday pass without a family birthday dinner. Of course she chose Salmon and everyone was happy.
Have I mentioned this is her favorite food and my other sidekicks also devour it? At least I have done one thing right!!
Happy Birthday Samantha, we had so much fun celebrating your birthday!! We love you so much and are grateful we get to have you in our family!!