W
e had a wonderful Christmas at our house
, the day started with me up before anyone else, I may be the adult now but I still can't sleep Christmas eve because I am so excited. Not the rest of my family, they were all out cold and snoring. When they did finally wake up we headed into the family room to check out their presents. Every year Rob and I figure out what to get the sidekicks, and every year we get more, we love buying for the kids and love watching their excitement when they open the gifts.
Waiting to go to the family room and right before opening presents.
First up, checking to see what is in their Stockings.
Gifts from Santa Clause (Samantha: Monster High Cleo bed, Hannah: Monster High Laguana bed,
Hunter: Giant box of Lego's)
We like to open presents one at a time so Rob and I can see their reactions, and to make the entire morning last longer than if we just set them loose on everything.
We also loved watching them watch each other open gifts and getting just as excited with them. A couple times we had to remind them to let them open their own present, they would get so excited to see what it was they wanted to help rip off the paper.
Samantha: Monster High Cleo bed, purple pea coat, clothes from Mom, Monster High Abbeybomidable, gift card to Claires (and promise of a shopping trip) from Dad, Monster High Lava Lamp, Monster High head band. Also a Monster High book from Hunter, a Nerf gun from Hannah, Monster High Cleo Doll from Leka, a Monster High drawing set and Just Dance 2 for Kids video game from Grandma and Grandpa Morris, and a crochet Hat from Great Grandma Selman.
Hunter: Big Box of Legos, Airport Lego set, Real Steal action figures, Clothes from Mom, Halo Master Cheif toy from Dad, Lego Indiana Jones Xbox video game, Angry Birds bomb and pig toys. Also a Nerf gun from Hannah, and a Halo Alien from Samantha, Transformers from Austin, Airplane Lego set and Hunting guys from Grandma and Grandpa Morris, and a Crochet Hat from Great Grandma Selman
Hannah: Monster High Laguana bed, Crib Life doll, Monster High Spectara doll, 2 wheeled scooter, clothes from Mom, toy marshmallow (from annoying orange) from Dad, Monster High head band. Also a Monster High Neptuna (Laguana's pet fish) from Samantha, Polly Pocket play set from Hunter, Monster High Frankie doll from Leka, Monther High Draculora doll and Tinker bell fairy from Grandma and Grandpa Morris, a crochet Hat from Great Grandma Selman.

The kids and I bought Rob a new Leatherman, old man slippers, a new pair of pants, and a Hunter Dan toy.
Rob took the kids to the dollar store and set them loose to buy my a Christmas present, I almost wish I was there from all the stories he was telling me. They came back with:
Hannah:
A turkey baster (she told Rob I NEEDED a turkey baster and he was surprised she even knew what it was, thank you Curious George), Huge pink sunglasses, ice trays, and colored zip ties.
Hunter:
Sunglasses, an apple slicer (he didn't know what it was it just looked cool), and a back scratcher.
Samantha:
a Thor puzzle, a pillow (which will include a picture of me and her) and a piggy bank.
And Rob bought me an air horn to use so I don't have to yell to get everyone's attention.
Rob may have started a new tradition, I laughed the entire time I was opening my gifts, I think I am taking the kids to do the same thing next year.
When all the presents were opened Rob pulled out one more for me, I wasn't expecting it and I was so excited and happy when I opened it. There were lots of tears shed, I LOVE IT, and we have been having so much fun taking pictures with it.
After we opened presents on Christmas Day we ate our traditional Christmas breakfast of sticky buns, eggs, and fruit. We then hung out playing with toys until it was time for church. Our Sacrament meeting made me wish Christmas was on a Sunday every year, the music and speaker added to the spirit of why we celebrate Christmas and helped to set the mood for the rest of the day.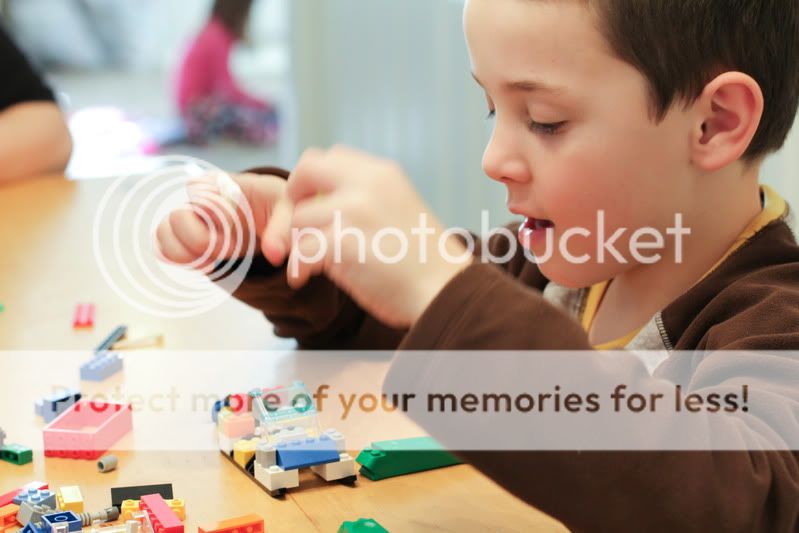 We came home, changed back into our jammies, relaxed, and played with toys for the rest of the day. I pointed out that for the first time in 6 years we didn't have to pack up and drive 16 hours, it was a great feeling.
We enjoyed a nice Christmas dinner of ham and potatoes, I didn't think I could after last year's ham experience (which I really should blog about because now that we look back it is kind of funny), but Rob got a ham from work and it was delicious. We were also lucky enough to have my parents and brother Tyler stop by and visit for a bit.
The day was perfect and Rob and I decided this is how every Christmas should go.